As I reflect on the first leg of my trip, an auspicious journey to Bhutan, I realize it is ever noteworthy in my mind.
When we first arrived – bleary-eyed, frazzled and exhausted – I wondered why in the world did I ever think this was a good idea. The city looked beaten down. I gazed upon many people seemingly poor, their teeth broken and the city of Paro looked tired and worn down. I was not sure why Bhutan was called the happiest place in the world.
Thank god there was no way to turn back, and I was forced to be still, experience the beauty, grace, and serenity of this Buddhist country where one's walk and talk are inextricably interwoven into a sanctity of what is. And I listened and learned over time what Gross National Happiness meant as it was juxtaposed to the Bhutanese Buddhism's "wheel of life."
Such has been my journey to Bhutan where pure intentions are wedded next to emerging modernism. Prayer flags dance like sugar plum fairies in the wind, reminding us that life and death are inextricably laced to the wheel of life and not the dead as they are revered. I learn that the number 108 is an auspicious number for there are 108 Buddhist teachings and 108 white prayer flags to honor the dead.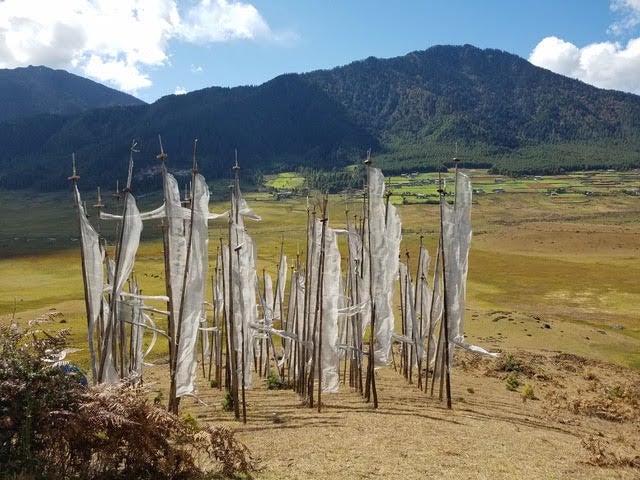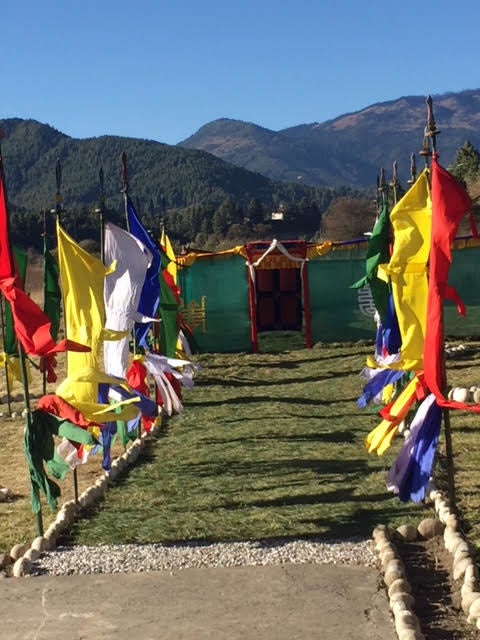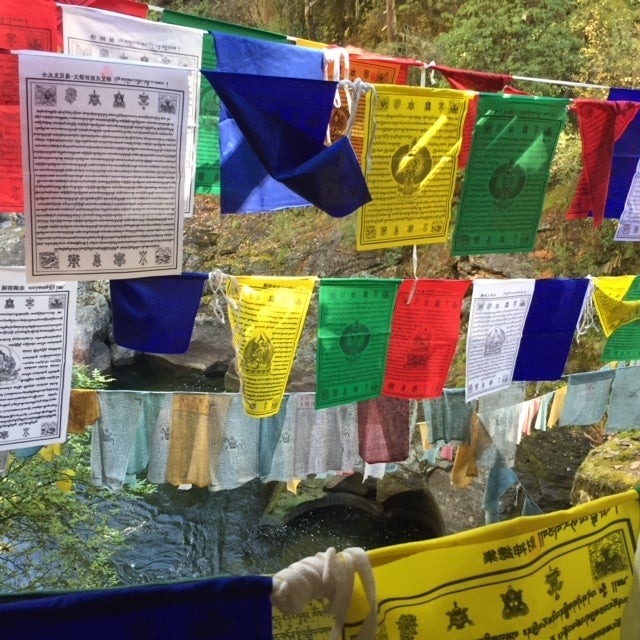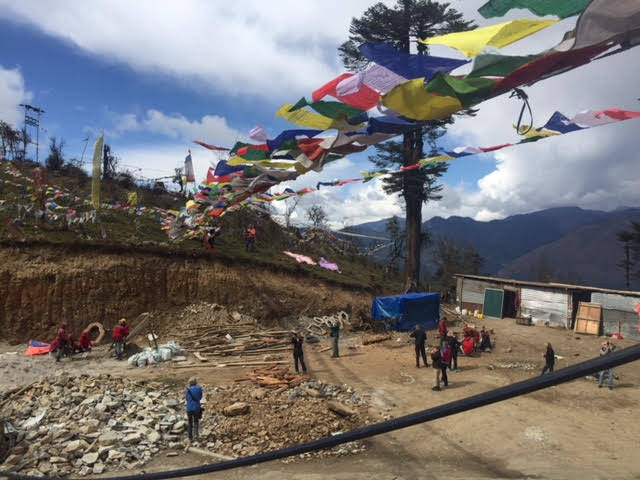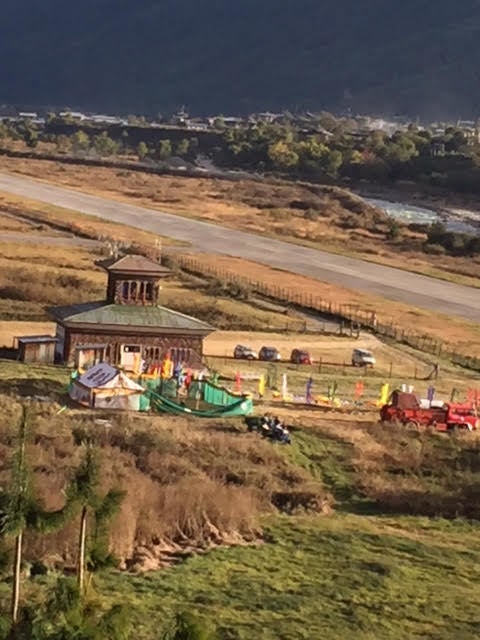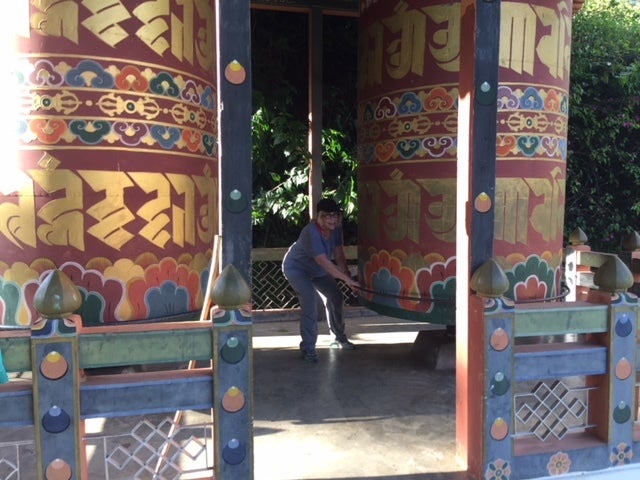 Other prayer flags are a colorful bunch of rectangular textiles – bold blues (sky and space), white (air and wind), reds (fire), yellow (earth) and green (fire). The colors carry meaning beyond, they celebrate the elements of the environment as well as the 5 lights. Traditionally prayer flags were used to promote peace and compassion and to clear the air for compassionate thoughts. They are usually placed on passes or on hills. And because Bhutan is a Buddhist nation, the largest sitting Golden Buddha in the world is perched high upon the mountaintop guarding all the land.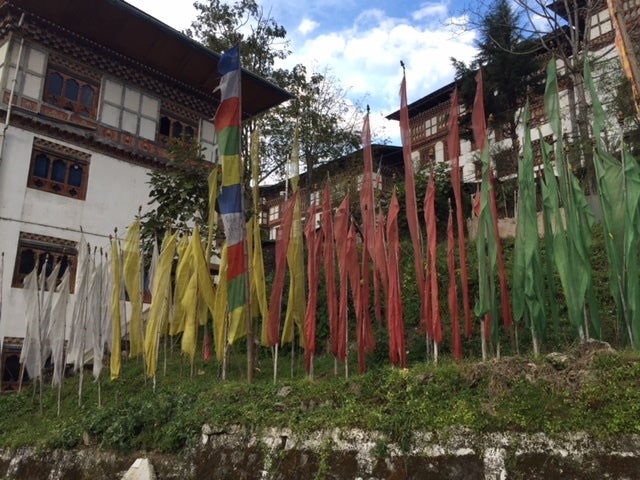 As we began our journey through the country, our guide, Tswang, is a walking encyclopedia of knowledge. He takes his responsibilities seriously and in his patience we learn to listen and learn not only about his country and also his love of Buddhism, for the two intersect at every crevice knitting meaning into your heart. Dressed in his native garb, Tswang and his trusted allies remind us to be respectful to have inquiring minds, be curious and to explore the impermanence of life.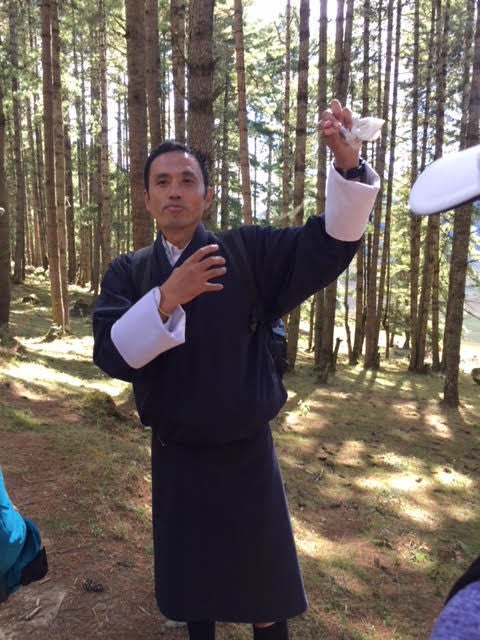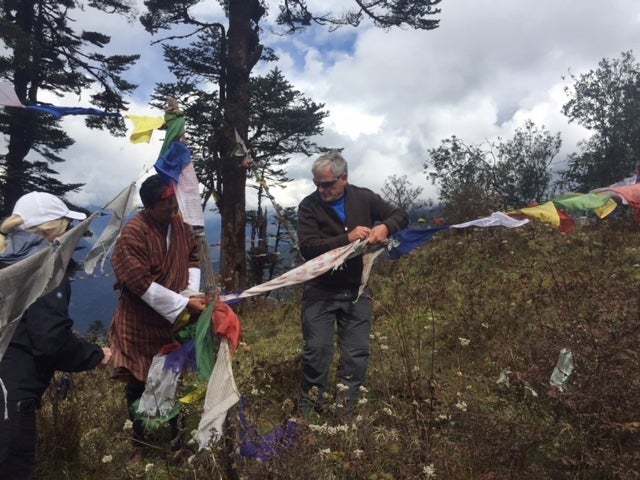 Here are lessons we encountered along the way:
Lesson 1: If your intentions are pure and clear, your path will be clear. How many of us think when we are doing something we ask what's in it for me? How will I benefit from this? The overarching concern is to pave the way with clear and pure intentions. Another question to ask yourself is – do I think well of others? Traveling on World Kindness Day, I am reminded that if we see the world as pure and accept difference, how much better off we all might be. This is a practice to be cultivated like planting rice in ancient fields.
Lesson 2: Expect the Unexpected! Bhutan is situated on the eastern side of the Himalayas. At 11,950 feet, we traveled down roads that were not yet roads and our life hung precariously in the hands of our seasoned driver, Lunchu, or "Captain John" as he affectionately was called. As we traveled, I thought of the poet Robert Frost who wrote, "two roads diverged in a wood, and I took the one less traveled by, and that has made all the difference." I imagined herding cows and yaks walking for days on end through treacherous mountain passes, stopping to pray along the way and feeling content with my being. I realized how spoiled I am with our freeways, side roads, street lights, stop signs and traffic signals. In a country that has no stop lights, they use roundabouts (one must go clockwise when going around objects, in traffic and stupas, or Holy Temples). And I knew in that moment that life was more than material goods floating on a sea of MasterCard's, Visas and American Express cards.
Lesson 3: Nothing is permanent. The past is in the past – we live in today not yesterday. We are always becoming. Unlike so many countries where restoration is important, in Bhutan when temples deteriorate or wear out they are not restored rather painted over signifying today. Our guide Tswang teaches us that worldly goods are not that important. Enlightenment does not come from that rather temples are repainted, time changes and modernism dances in grabbing hands with the past. For example, along the road we met a man who was 26 building something from the ground up. So proud was he, turns out he was building a home for his mother. He invited us in and serendipitously showed us his handiwork. Not only was he building his mother a home but soon in eight to twelve months his creation will be a farmhouse for weary voyagers to stop and find rest. The traditional home altar and room of worship will not be touched by the changing nature of the man's new home for his mother. The mother's home, which when completed, will invite modernism in as travelers will pay to stop, drink tea, tour the home and the revenues garnered will add to the mother's comfort. We say we live one day at a time and if our intentions are pure and clear we walk. As such, the Bhutanese, preserve culture through interpersonal relationships and the transmission of values.
Lesson 4: The wheel of life is ever turning. We learn that on the road to enlightenment or transformation there are many obstacles in our way. This path resembles a clock and as we move about it the way the big hand and little hand ticks off passing time, we as humans can get stuck at different points of time. Greed, or the hungry ghost, can occur 1-3 on the clock face. Anger and hatred comes between 3-6. Animal ignorance is 7-9, while competition and jealousy, a realm for the demigods, is 9-11. Finally, pride and false god worship, or reverence for gods (with a lowercase 'g') occurs at 12. And the human realm exists in all of these stations of the wheel of life. As I search for a frame of reference, I think of how in addiction treatment we take a look at our character defects to better understand ourselves and the triggers that lead to an addictive state. Human emotions such as pride, lust, jealousy, greed, competition, hatred anger, and ego often captured me. I am silenced by the wheel's profound sense of awe and how it mirrors in some ways the addiction recovery process.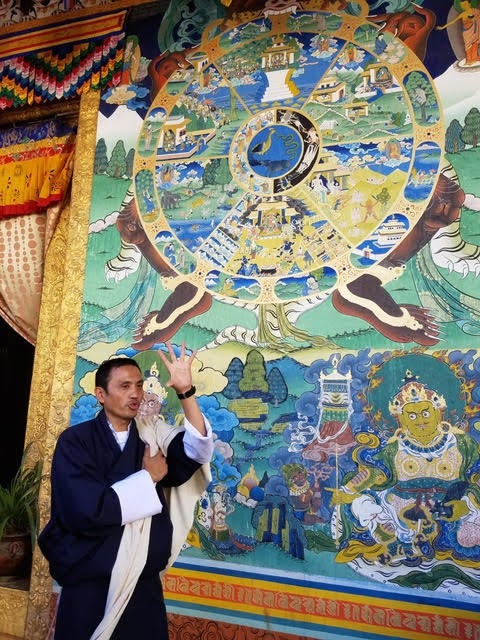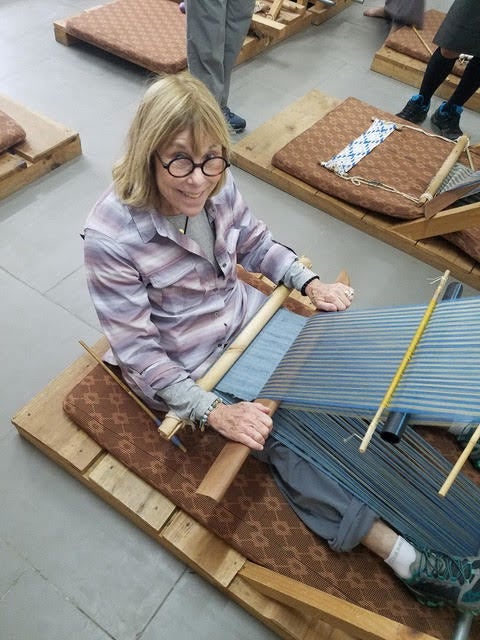 In addition to the many lessons I learned, there were many observations I made about the land and its people, traditions and norms.
Mantras and Meditation. We listen to the monks chant ancient mantras and begin to grasp how focus and repetition takes us away from triviality and foolishness while meditation serves to quiet our overactive mind and understand – in the beauty of a temple created centuries ago – the power of transcendence.
Tradition. Myths of blue bearded monks, the birth of Buddha, Grumpchee, and the story of flying tigers fill our souls. Schools teach the art forms of old like painting, weaving, carving and building houses. Traditional festivals bring village folk from near and far to come to celebrate the Sitting Buddha and traditions of yore. Women dressed in traditional Kira's come with children in their finest garb and attend the religious gathering while signs of an open air market selling clothing and washing machines remind us that modern day is upon them. Even the king arrives for the ceremony having traveled by commercial jet alongside his commoners. The second son in a family is sent to become a monk and mothers are property owners and her daughters own the land. I smile as I know my daughters will appreciate that. Interpersonal relationships transmit tradition and culture just as we are beginning to make new friends who will share our new-found secrets making them that much more special.
Birthdays, Marriages and Night Hunting. The king has four wives who are all sisters. So as not to upset the family he married all four, which joined the east with the western territories of the country. Each Queen contributes to society in their own way, focusing on art, education, treatment of their citizens, etc. Marriage and the celebration of birthdays are not commonplace. Instead, once every 12 years the people celebrate "Night Hunting," which I came to understand as hooking up in the rice paddies. They also have a great reverence for the penis and hold ceremonies to honor the blessed organ.
Modernity and the Gross National Happiness. Modernity in Bhutan has only begun in the 1960s. The country is surrounded by India on one side and the Himalayas and China on the other, making it isolated from western ideas. To bring the country into the modern era, the King, who must retire at age 65, started a democracy with elected officials and declared to the UN that Bhutan is the country with Gross National Happiness or GNH. What does that mean in a country where attachment to wealth or for that matter anything is not the means to an end or the end in itself? It means that the citizens enjoy universal education and health care, farmers receive 25 acres of land, electricity and modern plumbing, etc. Still, children often walk two hours each way to school. Thus, independence and resilience is fostered at a young age. Roads are built which join the country. In doing so, Buddhist values are stitched with public policy – they are one and the same.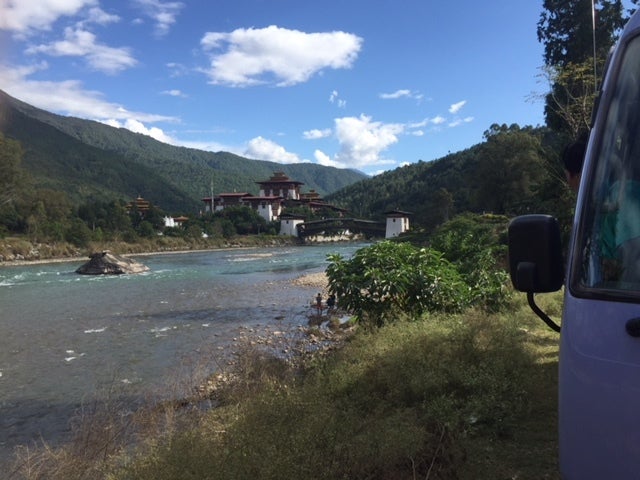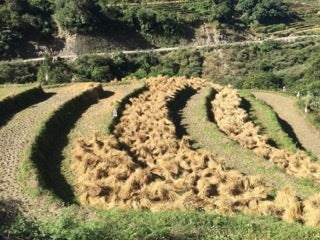 Climbing to Tiger's Nest, a temple perched on the edge of a mountain 10,450 feet above sea level, our guide instructs us that it will take three hours to reach the temple. Our guide also tells us to simply take one step at a time, a reminder not to get overwhelmed with the enormity of any task. It's about concentrating on the now, he says. How proud we felt by this collective accomplishment – alone, together and with Buddha.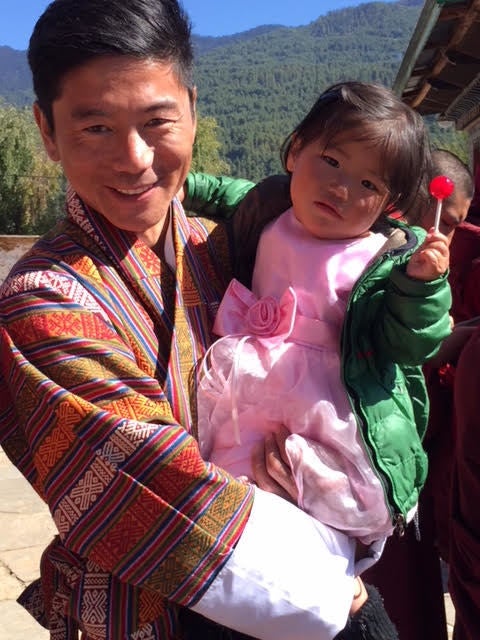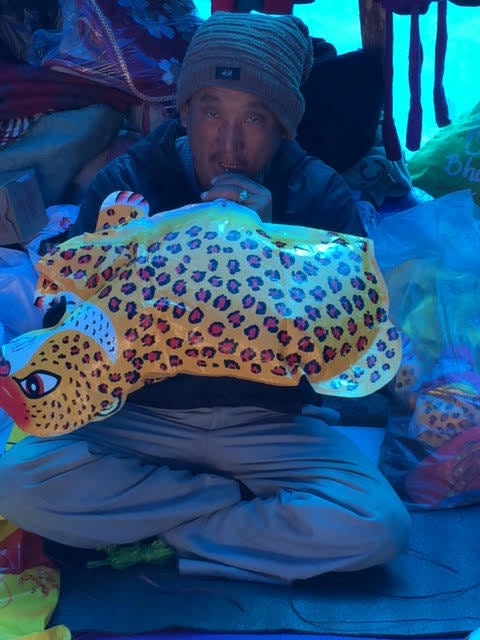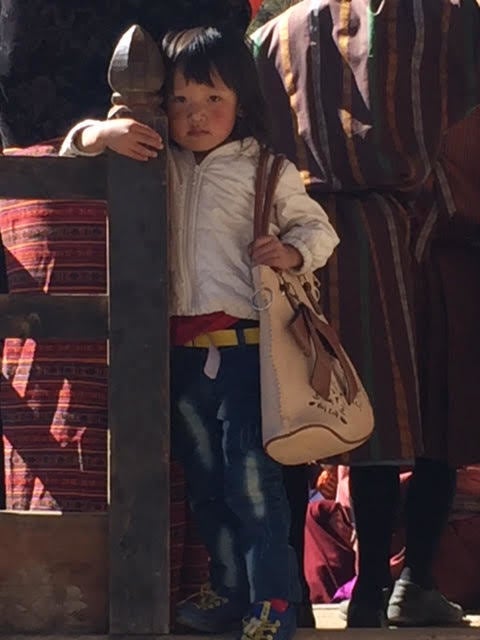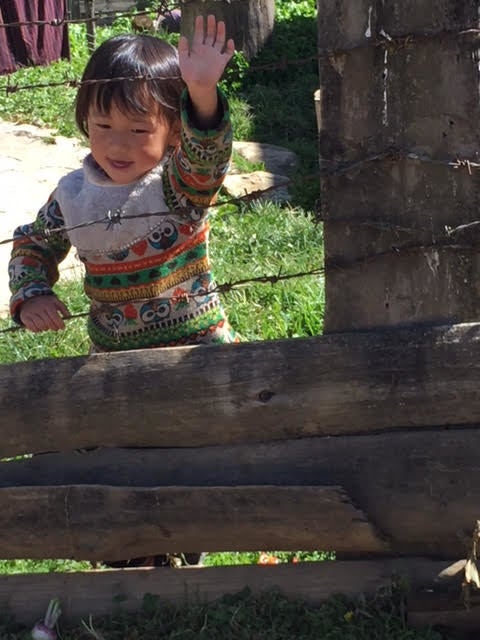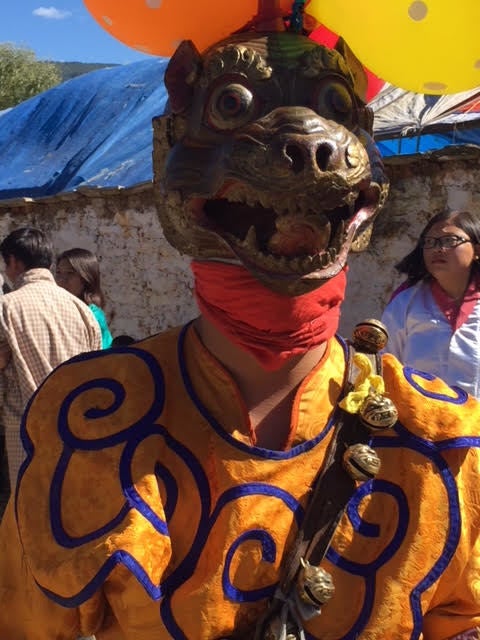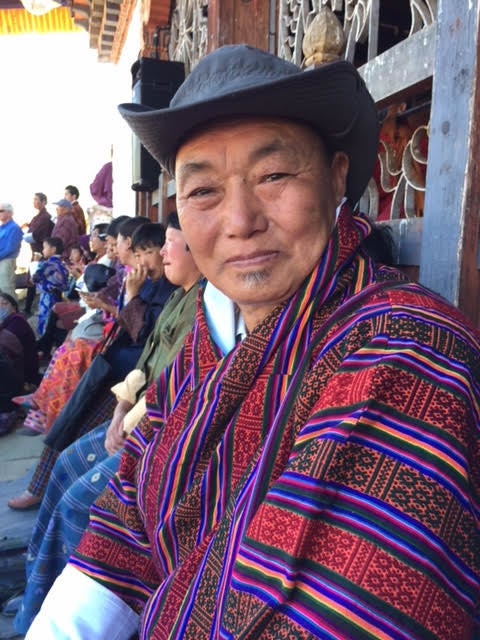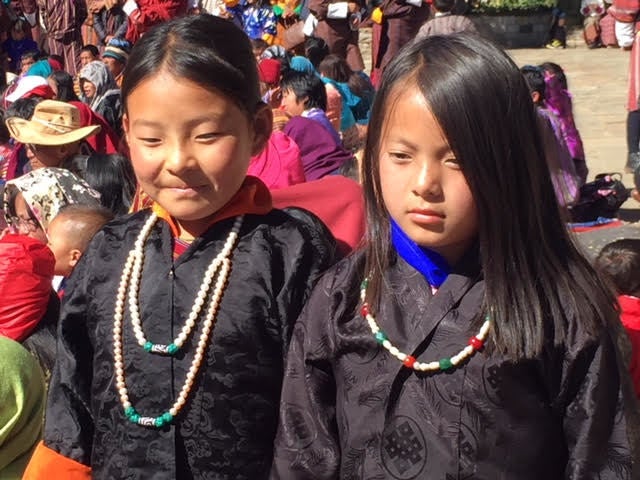 So where does this leave me? I have often written if you meet the Buddha on the road, kill him. Now having been blessed to be in a country that reveres the sitting Buddha, those ideas take on new meaning. Killing the Buddha means we transmit our values, customs, notes and ideas in the midst of a new Buddha. Enlightenment and transformation are ours for the asking as long as we continue our daily rituals and walk with sincerity, honesty and clarity. Modernism does not mean the eradication of values rather the emergence of new.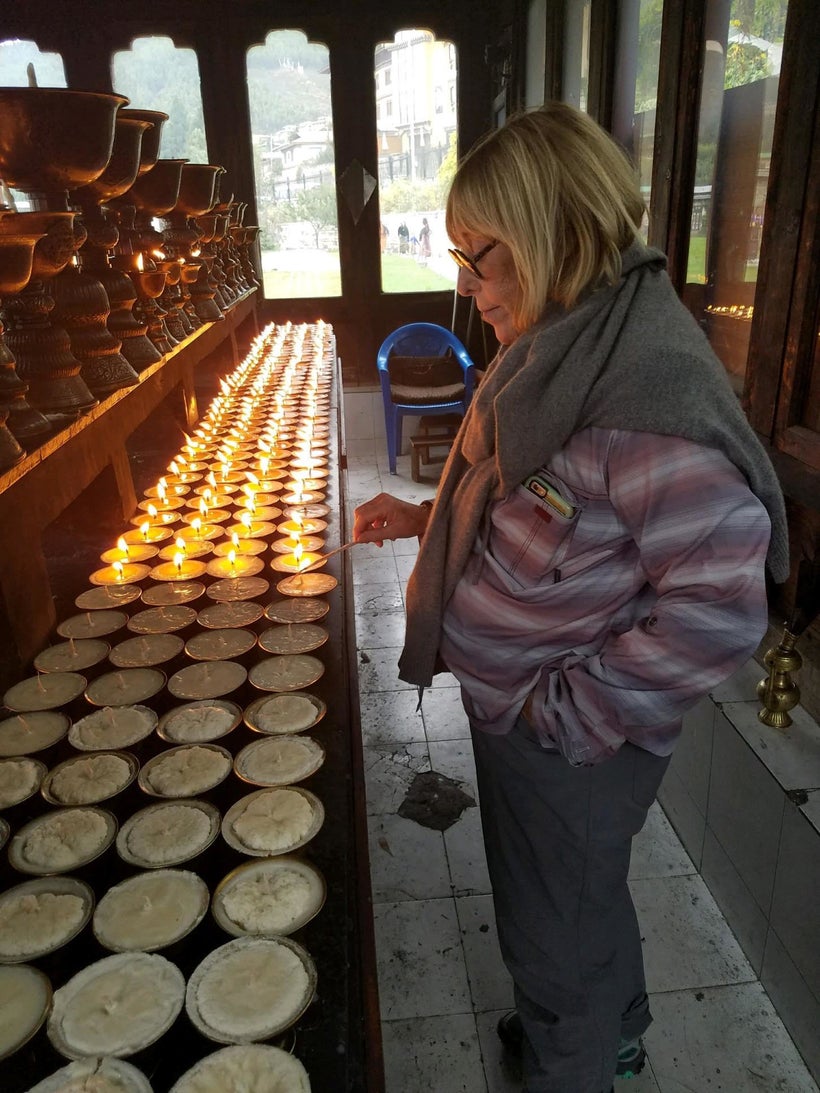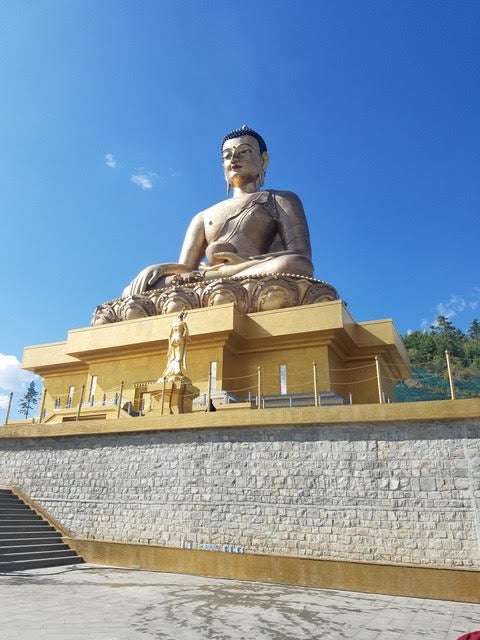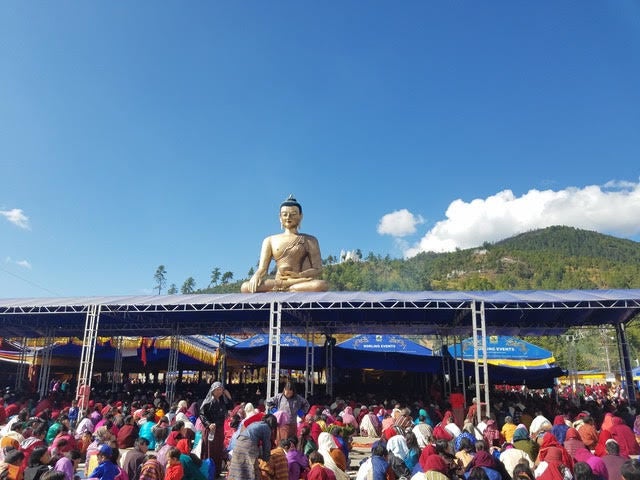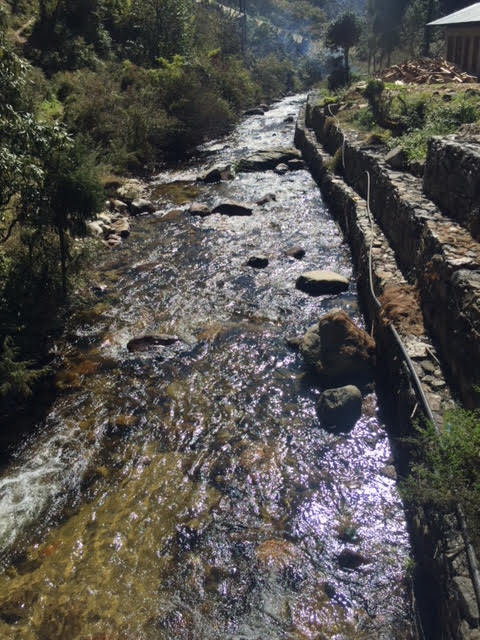 I am told when the stairs to the Temple wear down a new Buddha will be born and when we die we will be reborn albeit human, animal or mythological form. I wonder if we change the entrance to our home so that we must step up into our dwelling thus warding off evil, place prayer wheels throughout and blessed prayer flags behind our sitting Buddha. A piece of Bhutanese happiness has found a new home.
**This article originally appeared at Huffington Post. To view the original please click here.