In Memoriam – Dr. Jeffrey Lehr, Vincent "Chris" Jones, Mary Lou Fox and Jonathan Dudeck
Today I am writing about a subject that is near and dear to me, grief and loss. Over the last two months, death has made a striking appearance at my door, reminding me with a crushing blow how precious and impermanent life is.
But let me backtrack for a moment. For those of you who have read my memoir, Falling Up: A Memoir of Renewal, I have experienced five sudden deaths in my life and used those experiences to heal myself, and work with others who experienced SIDS deaths, suicide, the death of a parent, child, or spouse. I also worked with the widows of 9/11 through the New York Fire Department and have been of service to those who experience loss. In short, I am good in crisis. I am good with death. I can go on autopilot to help those near and dear.
Like most Americans, I see death as something on the outside, an outlier in a life otherwise filled with joy and happiness. But death can be like the worst possible medicine that is stored away in a cabinet, only to be flushed down a toilet or run away from. This is in marked contrast to the way Buddhists view death – as an inextricable and inevitable part of life, not to be feared. In fact, as I learned on my recent journey to Bhutan, impermanence is not something to be scared of rather it is to be embraced as one must always live each day fully with clear and pure intentions.
As I left for Bhutan, a long-standing client of mine had tragically become a statistic of the opioid epidemic. Dead at 27, I grieved for him and his parents. I knew all I could do was offer my support, contribute to Shatterproof, reach out and shake my head with tears. Additionally, a dearest friend had a tumor the size of a golf ball removed from his brain. The microcosm of my world erupted like a 7.6 earthquake. Archery –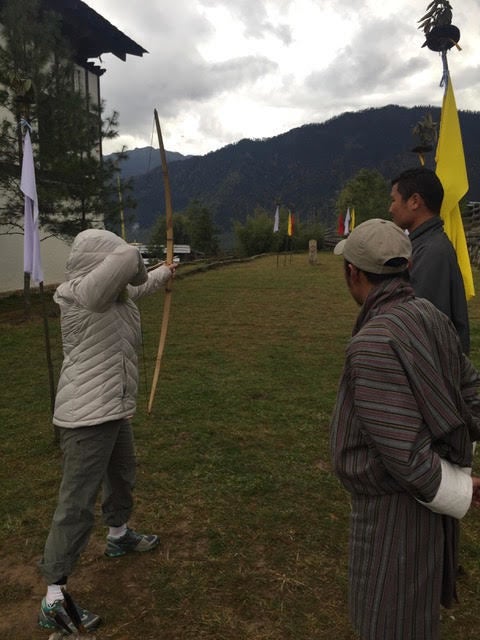 All I could do was call and offer my support which seemed ridiculously inadequate given the enormity of the situations. And then in my distress I discovered prayer wheels during my travels through Bhutan. My ego leaped out as if they were made for me and had patiently stood centuries of time waiting for me. They line stupas and one turns them clockwise. Some were so big my body cried out in pain as I tried turning while others were reasonable and manageable to the touch. With each touch and each turn I said a prayer, my own mantra for their souls as well as for all I love. The repetition of my own mantra was healing and each time we came upon a prayer wheel I raced with enthusiasm to do my daily chant. While I felt ultimately powerless and felt the lapping waves of grief on my shores, turning the prayer wheels became a life affirming act. Likewise, walking, hiking and becoming one with the earth, looking where I was stepping, going up and down stairs meant for long legs required focus, determination, fortitude and being present in the moment. All this allowed me to address the grief and loss I was feeling.
I became so smitten with the prayer wheel that I have brought several home with me to help guide me through my days with swift attention.
In addition to prayer wheels, Bhutan is also known for its archery. Shooting arrows into targets harkened back to my childhood days at Camp Wood Echo when I first learned how to shoot a bow. At Camp Wood Echo, I was a lost child who was overweight and whose father killed himself and mother who wallowed in whiskey sours and a stepfather with an irascible son who acting out took time away from me. I found solace in outdoor activities, daily schedules, Friday night service, archery, riflery, swimming, canoeing, horseback riding, making hospital corner beds and the daily routine of knowing what expectations were along with the warm encompassing arm of the Rubenstein family who made sure the world was safe.
The Rubensteins were my safe haven. They made me feel the camp was a place I could experiment without judgement, was valued, and I could be me.
Learning archery at the camp was no small task, but I was up to the challenge. This coincided with shooting arrows in Bhutan. When we came upon the opportunity to shoot, despite the fact that there were big pellets of hail on the ground, I bundled up and jumped with childish glee and set out to make my mark, recalling the long-ago days at camp under the hot sun. The bow was much stronger than my memory imagined and the target much smaller. What is it about a child's eyes able to see how vast the world really is? Then I heard someone from long ago tell me to pull back like I was brushing my teeth and the present time corrected by aim and sure enough after several tries my steadfast determination and thoughts of my mentor Leon Rubenstein cheering me on helped me hit the target. I jumped with 11 year old glee and was one with the little girl inside while the guides around me in present Bhutan lauded me onward and in those miracles of time I felt whole, refreshed, centered and calm with life. No the acts did not change the current events nor did they make the past easier. However, high in the mountains where the black cranes come to winter's rest and prayer flags grace the terrain there was a space, a peaceful calm that ushered me in, and I passed through letting go of expectation and enjoying the now… and accomplished something when I felt so powerless.
It wasn't just prayer wheels I discovered during my travels. I also encountered white prayer flags, which served me well when I found out about my best friend's husband. He was having coffee and a croissant one Sunday morning when suddenly his world turned upside down. He couldn't talk and was rushed to the hospital. A brain tumor was discovered and he had a successful operation to remove it. He will do radiation and chemo to make sure the cancer is gone from his body.. I sent him silly gifts to his far away hospital room. A stuffed octopus to remind him of his seafaring days. I knew I must go and visit him on my return. Through this time, I turned to prayer flags.
My teacher shared the importance of white prayer flags in Buddhist tradition floating in the wind. Families climb high into the mountains and place 108 white prayer flags to blow in the wind in honor of a loved one's death. The flags catch sail in the wind and to a passerby glow in memory and serenity.
Likewise, prayer wheels in and around temples are touchable and the turning of the prayer wheel clockwise gives one the ability to pray and participate. I learned that Buddhists believe in reincarnation and while I am not sure when we die we transform into another being, I do believe our spirit lingers on and the thought of having prayer flags dance in the sky was healing. A serenity passed over me hearing monks chant, observing religious customs, and opening myself up to a new peaceful perspective.
That served me well for as soon as I put my foot down on American soil, I learned my dear cousin had died. He was a successful doctor who nurtured my family after my first husband died. "Disneyland Dad" as we called him. He wore a bright orange cashmere sweater, had the biggest heart and the worst driving record I know. He was gone. I wondered about his adult children, now "orphans" as their beautiful mother was taken too soon by cancer a few years before. I remembered all the wonderful times we had together and was so grateful just two weeks before he had dinner with us in LA.
But the losses kept coming as if I was at a shooting range and I was the bullseye on the target. The bullets hit me with destructive force, like being pelted with chunks of ice in the middle of a hailstorm. And so I learned of Mary Lou Fox's passing. She was on of the most talented women entrepreneurs I ever had the privilege of meeting. A marketing genius, she turned a nursing home pharmaceutical business into a multi-million dollar business. I called to talk to her, to tell her about our friend Chris and could not find her except by googling her and coming up with an obituary page. The woman who gave me away at my second marriage was dead and the best man was standing at the pass. Silence and tears permeated my being.
My best friend's husband was not getting better as I imagined he would for after all my ego said he will. I waited and hoped he would come home and bless his soul he did. He had entered Hospice on Wednesday and it was Friday. Our trip to San Diego was quiet and swift, we talked little save for being reminded how good I am in crisis while inside my heart was screaming. I HATE This. We suited up, showed up and were present as best we knew how given the outcome was known. John, our daughter Shelby, her fiance and I helped the ship set sail. I knew in my heart that it's not the immediacy of the moment, I have been there making funeral plans, arranging celebrations but it's in the weeks and months to come to show up and be present in the middle of the night when arms hurt and the screams inside your head keep chanting, why oh why. And everything is a new beginning.
What I have learned is grief, though universal, has no time table. It washes over like a tidal wave and you feel like you have been pinned down by its force. In truth triggers reminding one of a loved one are everywhere, everyday but holidays can exacerbate the situation.
Grief expresses itself in many ways, one being unintentional emotional unavailability, another can be crying spells that pop up unexpectedly like a jack-in-the-box. There are also sleep disturbances, supernatural occurrences, appetite changes. Every person and every family grieves at a different pace. Emotions can collide like meteors on desert landscapes when the emphasis is on rebirth, and social media can fuel the emotional fire as being online tries to make everything look like one big party.
If you have experienced loss in this holiday season or feeling memories of someone who passed away, here are 12 things adapted from the Harvard Health Letter and my own experiences that you can do during the holidays to help:
Start a new tradition. During holiday dinner, light a candle, set sail, see a show or watch a holiday movie, have a favorite food or say a few things of remembrance.
Change the celebration. Go out to dinner instead of planning an elaborate dinner. My first husband for example loved Chinese food so we went to eat Chinese food instead of making a big fancy turkey.
Give yourself a hall pass. If you don't feel like doing something then don't. It's okay to have some down town. For example, don't send out holiday cards if it makes you feel bad that you are sending alone. There is no right or wrong.
Have an exit strategy. Sometimes going to a party or being with friends can be wonderful, other times you can feel like you are out of your league and want to crawl in a hole. I remember feeling I was "different" somehow tarnished when I became a widow and that I did not belong. Having an exit strategy so I could learn to be okay with myself was very important.
Don't apologize. You don't have to feel guilty about your grief. You have not done anything wrong and when you apologize you send a message that you have done something wrong.
Seek professional help. When death is new and fresh there are so many things that happened and lot to do. Having a professional who understands what the process is like is helpful. Some people like grief groups, others do not, some prefer talking one on one with another widow or widower, or parent, or like chat groups. Find what works for you.
Stay off social media and other media. Remember TV and movies and ads are fantasy not reality.
Express your needs. You do not have to answer every text or phone call and if you don't want to go don't go. Everyone is not an expert in this area. You may not know exactly what you want and talking it through may help. You don't have to do everything. You are allowed to scream.
Help Others. You may have a job or a volunteer position that satisfies you or it may trigger you. If you have a service dog and your loved one died in hospital or hospice be clear that going is a trigger and only you can decide if that will help you by doing something for others. After my son died of SIDS death, I did learn to help other families who experienced the same but that took time.
Change your mind. You have the right to change your mind. What might of been a great idea a few weeks ago may not be the best idea now. The best present you can give yourself is to take care of yourself. Maybe going for a massage, getting your hair down, going to the gym is a better idea than going to the party.
Stay away from major shopping plazas. Since I like to shop this is a hard one for me. However, I remember walking into the local grocery store, CVS and department store with arms aching and a dazed feeling in my heart, talking everyone's head off who would listen. I also remember loving my friends who would show up and take me places when I was in this state.
Create Your Own sanity pack – or spiritual corner. Fill yourself with a goodie bag or place in your home that is just yours.
Lastly, this is your journey, along the way there will be people who show up and people who disappear. Above all be gentle with yourself, engage in celebratory rituals, know that it is okay to feel your feelings and that I as your friend, relative or professional am holding you in my heart.