Los Angeles, home to West Hollywood, the La La Land of lines, waiting to hit the Red Carpet, Elton John's famed Oscar party to support the AIDS Healthcare Foundation, Gay Pride Parades, the largest Halloween event in the country, openings of Shake Shack, and now hosting huge lines to get into the only two marijuana shops in all of LA.
In May of 2017, I was moved to write a piece called Folks Get High on La Cienega Blvd, which was about the explosion of findings on marijuana usage, especially the Governors Highway Safety Association report on drugged driving. I was worried, baffled and dismayed because it was hard for me to walk down the street in my beloved Weho without being overcome with the smell of marijuana fumes in the streets. Little did I think that come January 2018 it would be standing room only as folks lined the streets of WEHO waiting to buy from one of the two only legal recreational marijuana shops in Los Angeles. Now it's true I live in LA LA Land and have withstood long lines for celebrity sightings, lines around the block for the Shake Shack opening and now my neighborhood is host to the hundreds, thousands of people who desire to buy recreational marijuana legally in the wake of Attorney General Sessions' announcement on Thursday regarding recreational marijuana.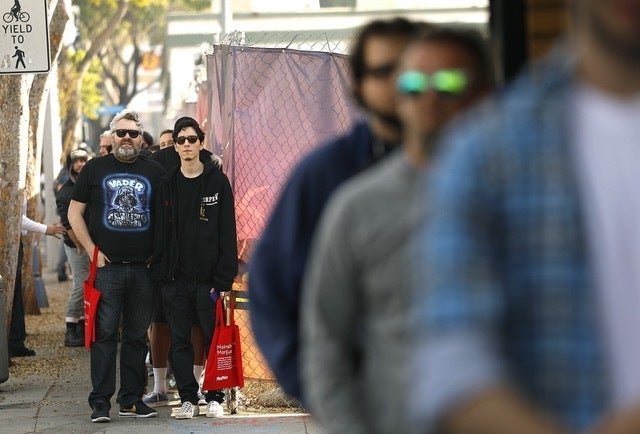 As I watch and have difficulty maneuvering to my home, amongst the eager buyers I wonder what will be the long term effect on the youngsters of today with legalization. I wonder how will the green rush in California impact the making of millionaires looking to profit from legalization, businesses & our collective evolving social norms on the matter?
As billions are at stake, many, many more questions come to mind. Will we have private clubs that cater to marijuana? Instead of YPO (Young Presidents Club) will we have YGO (Young Greeners Organization)?
Will smoking a joint become as normal as drinking a beer after work for business leaders?
How will this potentially impact business leaders who need to make important decisions during these social interactions?
Will my broker, doctor, wealth manager, banker, store clerk all be smokers?
Will we have dinner parties that say BYOG (Bring Your Own Green)?
Will the NFL get new marijuana business sponsors?
Will the Clydesdales sell beer and weed together?
Will Harry and David offer Holiday gift baskets that are green?
Will there be a new line of edibles candy chews?
Will there be increased drugged driving accidents?
Will there be increased drugged walking in streets?
Will smoking marijuana be permitted near schools?
Will edibles be sold at farmers markets?
What will be the results of second hand greensmoke?
What will be the medical complications?
Will Trader Joe's, Bristol Farms, Gelson's, Whole Foods, Albertsons, Kroger, Walmart, Costco, etc. have a marijuana section of edibles and other green products?
How will infractions be enforced?
How will drug abuse be monitored? For alcohol we have blood alcohol content (BAC) to measure the amount of alcohol in your system. Will health professionals develop a system to measure blood marijuana content?
How will the fedeal law conflict with local and state laws such as in my home city of Los Angeles and state of California? To learn more about this topic, read the recent Los Angeles Times article.
How will law enforcement respond?
Will there be an increase in treatment center admissions due to legalization?
Will the treatment industry continue to boom thanks to legalization?
The only positive I can see from all of this, if there is a positive, is that through legalization hopefully we can now have large scale US funded research projects hopefully funded in a nonpartisan way to test efficacy of usage. And in the making of millionaires we have created a new host of taxes while simultaneously for me this is an ethical issue. My license as a clinician (social worker) clearly implies I will do no harm. As an addiction specialist, I must now weather mothers who tell me it's fine for their adolescent to smoke as it helps with their learning disability. The chronic pain patients I work with who smoke marijuana may lead to abuse of hydrocodone and other drugs. And I must contend with the legalization of a whole new industry that positions itself as selling peace, health and happiness.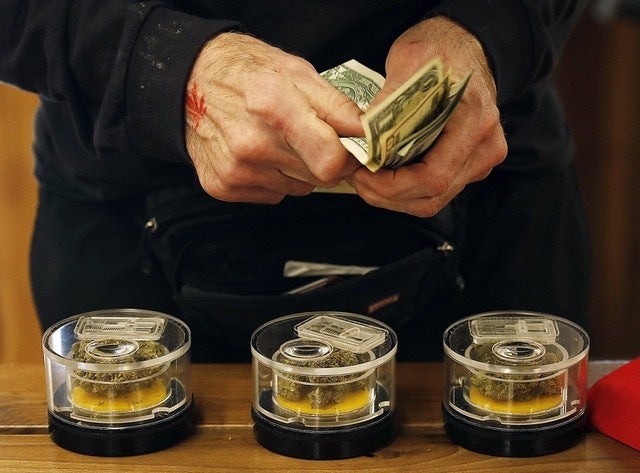 As many of you know I recently traveled to Bhutan where marijuana grows wild and is not a cash crop. Our guide Twang explained, "marijuana is illegal to use for human consumption in Bhutan, it grows freely and is fed to the pigs as they become fat and lazy."
As Kevin Sabet recently asked on January 3 on app.com, "Why would any local official welcome an industry to their town that seeks to profit at the expense of their residents, particularly children? Make no mistake, marijuana legalization brings a new Big Tobacco-type industry… that comes with a multitude of public health concerns, including addiction, youth drug use, increased motor vehicle accidents and higher numbers of minority arrests. And with the United States and Los Angeles in the grips of an opioid crisis, let us not forget that the CDC has found that marijuana users are nearly three times more likely to be addicted to heroin."
 This post was published with Huffington Post. View original
article here.